See on Scoop.it – Drugs, Society, Human Rights & Justice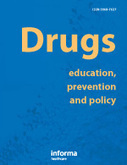 Findings: Most of the users in the qualitative sample sought a legal alternative to cannabis (their drug of choice) to avoid positive drug test screenings and criminal sanctions. Many were attending abstinence-only drug treatment programmes, under community corrections, or were seeking a career in the US military. These individuals were randomly drug tested and knew that the metabolites of synthetic cannabis are not detected in standard urine drug screenings.
Conclusions: US drug policies – the prohibition of marijuana and the proliferation of drug testing – have led users to seek out legal highs.
Read More: http://informahealthcare.com/doi/abs/10.3109/09687637.2012.749392?utm_source=dlvr.it&utm_medium=twitter&#.UY0XIXN0Sp4.twitter
Julian Buchanan's insight:
Another example of the damage caused by prohibition and the war on drugs … in this case tough punishments and social sanction resulting from drug testing are creating a growing demand (and indeed culture) for undetectable and often unknown legal highs which probably pose much greater risk than cannabis.
See on informahealthcare.com