See on Scoop.it – Drugs, Society, Human Rights & Justice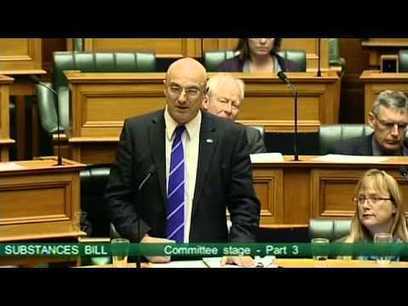 Provided by http://www.inthehouse.co.nz Produced by Tandem Studios
Julian Buchanan's insight:
Kevin Hague (1min. 30sec -7min 45secs) identifies the futility of punishing people for possession of 'unapproved' 'psychoactive' substances.
It raises the question as to whether this 'world leading' regulation of legal highs is genuinely about regulation -or a neat way of banning everything.
ALL 'legal high' substances will be banned under the new legislation until they have been licensed for regulation.
The criteria for regulation will be lengthy, costly and strict. Key Clauses which cause concern are:
Clause 62
Supply of unapproved substance is an offence subject to a max of 2 years prison
Clause 63
Personal possession of any unapproved substance is an offence subject to a max. penalty of $500
Clause 69
Empowers the police or appointed 'Enforcement Officers' to enter premises without a warrant on suspicion of unapproved substances
Clause 11
The Advisory Committee to oversee new approved and unapproved 'legalhighs' specifies only medical personnel 'pharmacology, toxicology, neuroscience & medicine' not mention of drug workers, drug user, sociologist, criminologist etc.
This is hardly progress. It'd be foolish to swallow this hook with the bait of regulation. What this Bill effectively does is give police and appointed 'Enforcement' officers new powers by making anyone who has an unapproved substance or who supplies at risk of fine/prison – this is extending prohibition. Rather than learning to live with drugs this Bill will widen the net of the failed war on drugs – with approved and unapproved mirroring the division between commercially supported legal drugs and tough law enforcement and punishment against illegal drugs.
Have a listen to what the government minister Peter Dunne hope's it will achieve: http://sco.lt/8iv5AP
See on www.youtube.com